OFFICE OF THE PROVINCIAL PLANNING AND DEVELOPMENTCOORDINATOR 1975-2011


We plan for the next generation...
The idea of establishing a local planning unit was envisioned during the administration of the late Ferdinand E. Marcos in 1975 to organize an RP-USAID Assistance program for the purpose of constructing, rehabilitating and improving rural infrastructures in selected provinces in the country. All provinces with this foreign grant program were required to create their own Provincial Development Staff or commonly called PDS who will undergo rigid trainings on development planning, monitoring and evaluation system. Fortunately, the Province of Quezon was selected as one of the pilot provinces of this program.
The original PDS of Quezon Province was composed of the Project Analyst (Nora A. Patricio), Infrastructure Analyst (Irma P. Garde), Agricultural Analyst (Isidro Abcede), Financial /Economic Analyst (Adeliza P. Lopez) and Researcher / Statistician (Juanita A. Mistica) headed by the Provincial Administrator, the late Mr. Agapito M. Arazo.
The Provincial Development Staff has built a distinguished planning record that finally got formal recognition, attaining an institutionalized stature by virtue of the Local Government Code of 1991 or Republic Act 7160 that made it a countrywide structure. It has become the Office of the Provincial Planning and Development Coordinator acknowledging all development staff as part of every local government's plantilla. From its original five (5) core members, The OPPDC of Quezon has blossomed with twenty-six (26) staff as of 2011. The Office has remained constant in its pursuit for relevant and highly coordinated development efforts supportive of national and provincial goals focusing on the grass root level.
The quezon planners at your service...
Our Services....
Prepares integrated socio-economic, infrastructure and other develo

pment and p

hysical framework plans/policies for approval by the

Provincial Governor, Provincial Development Council and the

Sangguniang

Panlalawigan
Provides research materials (data/statistics) and training programs for local government units, rivate sector, students/academe, etc.;
Provides coordination and linkages for the integration of sectoral plans and studies;
Provides institutional and technical assistance on socio-economic, comprehensive development planning and other development planning activities;
Act as resource person and facilitator in various development workshops, seminars, conferences and trainings;
Provides facilitators/secretariat to PDC Meetings, Provincial/Lo

cal Pla

nning and Budget Management and NGAs Seminar/Workshops;
Prepares feasibility studies, project designs, presentations and other development project study;
Coordinates with national and local agencies and local government units on the poverty alleviation programs
Mission
Vision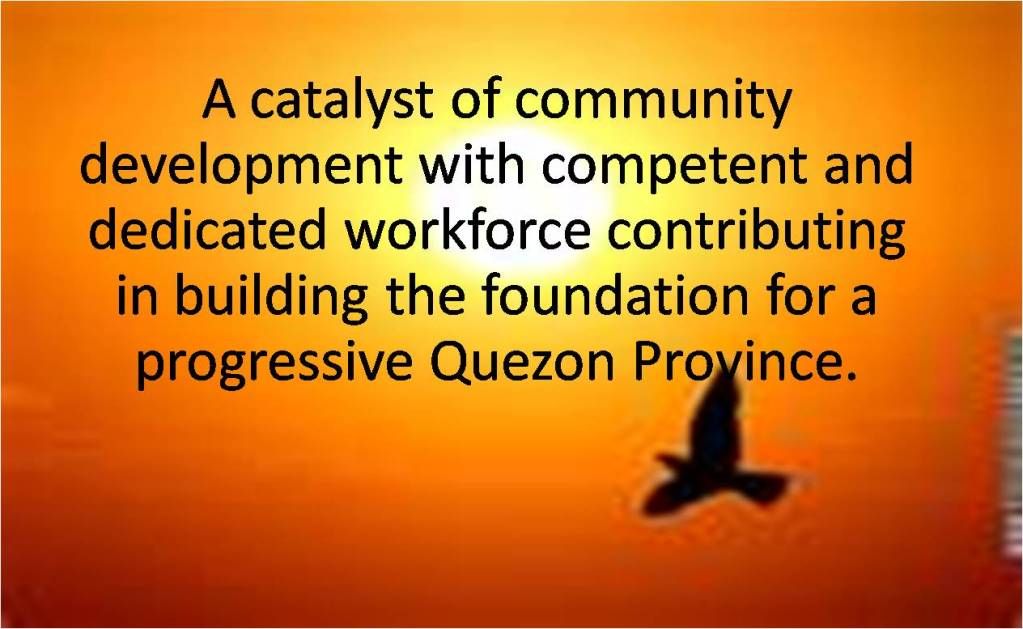 Organizational Chart
Contact Information
| | |
| --- | --- |
| Address: | G/F, Governor's Annex, Provincial Capitol Compound, Lucena City 4301 |
| Tel. No.: | (042) 3733816 (042) 7103088 |
| Email Address: | ppdc@quezon.gov.ph |