Memorandum of Agreement signing between the Department of Natural Resources and the Provincial Government of Quezon for the adoption and implementation of GREEn Kit in the Province
The Department of Environment and Natural Resources (DENR) and the Provincial Government of Quezon signed a memorandum of agreement for Quezon's adoption and implementation of the Gender Responsive Environment and Natural Resources Enterprise (GREEn) Kit.
According to the DENR, the GREEn Kit will serve as a guide for aspiring entrepreneurs in creating an environmental enterprise. It also contains on-going micro and small enterprises (SMEs) for male and female business folk.
Manuel Escasura, DENR Regional Technical Director for Research, said that the kit is focused on enterprise development in upland, lowland-urban and coastal ecosystems. It provides information regarding running an environmental enterprise, methods of production (materials at equipment), cost and expected profits, economic benefits, ecological implication, laws and restrictions.
Another important feature in the GREEn Kit is its Gender Analysis function, which shows the roles played out by men and women in specific aspects of running a business, like time spent working, as well as activities undertaken for the safety and good health of each other.
DENR and the Provincial Government – Enviroment and Natural Resources Office (PG-ENRO) partnered with the Provincial Gender and Development Office (PGAD) to implement the said program in Quezon Province.
The signing of the agreement was witnessed by Provincial Administrator Rommel Edano, Manny Calayag, Asst. PG-ENRO, Ofel Palayan, PGAD Focal Person and Nannette Joven, Forester II/PENRO GAD Focal Person. (Quezon PIO)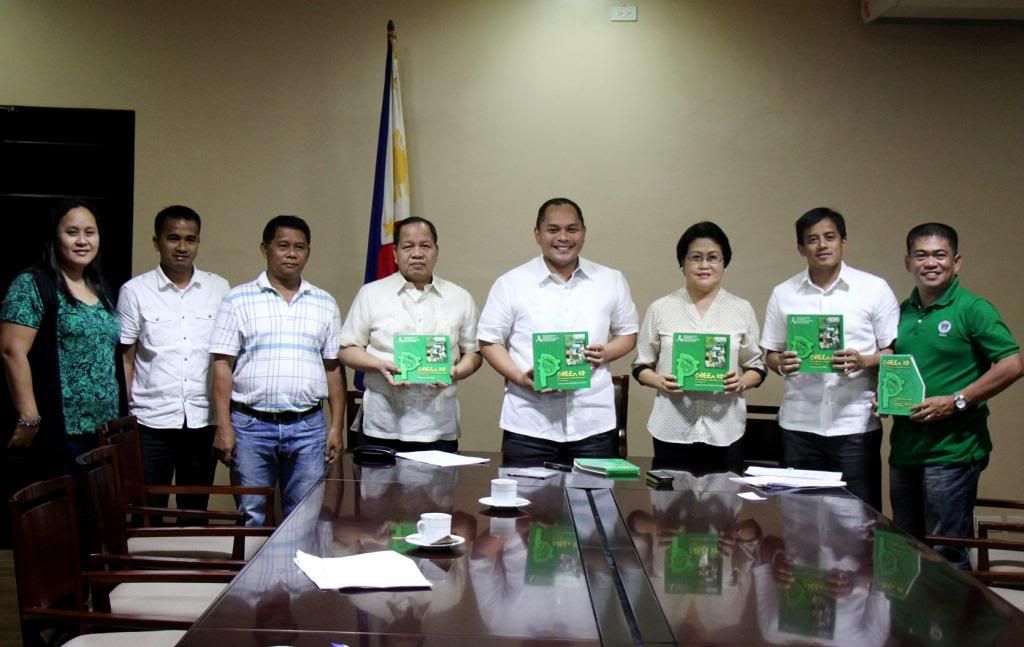 DENR Regional Technical Director for Research Manuel Escasura, Quezon Governor David Suarez, Provincial Administrator Rommel Edano, PGAD Focal Person Ofelia Palayan, Assistant PG-ENRO Manny Calayag holding up the GREEn Kit booklet.