A child undergoes a check-up from Doctor Danilo Camaya during the medical-dental mission by Sebisyong Suarez at Unisan, Quezon this February 16, 2013.253 residents were able to avail of the free consultation and medication, while 100 were able to receive free dental services.(QUEZON PIO)
Serbisyong Suarez for Health spearheaded a medical and dental mission for the towns of San Narciso and Unisan, Quezon this February 15 and 16, 2013. The said activity was led by 3rd District Congressman Danilo E. Suarez and Former 3rd District Congresswoman Aleta C. Suarez in support of the provincial government's thrust to improve the health of Quezonians.
450 residents of Barangay Binay, San Narciso received free consultation and 70 availed of dental services. In Unisan, Quezon, 253 people were able to get checked up for diseases, while 100 had teeth removed.
Several doctors who attended to patients during the event are volunteers from Manila. Dr. Danilo Camaya, Dr. Gruyer Garcia and Dr. Jonathan Martin lent their expertise to the provincial government to show their support towards the programs of the Suarez family and to help Quezonians live fuller lives with healthier bodies.
Mrs.JulitaRapal, a resident of Brgy. Ilayang Bulo, Unisan, thanked and commended the provincial government for delivering projects such as the medical missions of Serbisyong Suarez that reaches even the far-flung areas of Quezon.
Another successful program under Serbisyong Suarez for Health is the Lingap Kalusugan para sa Barangay health coupons, which can be used to pay for medical expenses in all public hospitals in the province and in purchasing medicine. Quezonians can acquire the said coupons from barangay captains in Quezon. (QUEZON PIO)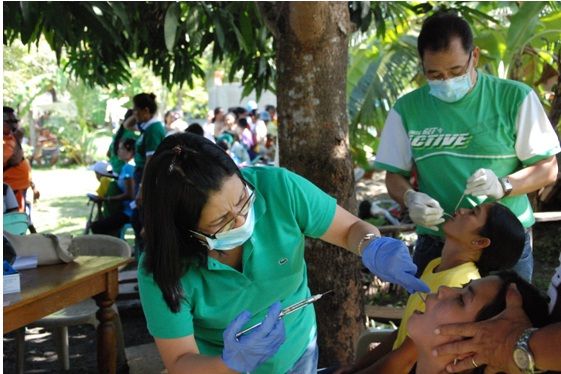 Dra. Renilda De Silva and Dr. Eleazar Apurado with patients at Barangay Binay, San Narciso, Quezon during the medical-dental mission by Serbisyong Suarez for Health this February 15, 2013. 450 residents received free consultation, while 70 availed of dental services. (QUEZON PIO)