Quezon Governor David "Jayjay" C. Suarez with Senior Board Member Romano "Mano" Talaga, Lopez Mayor Isaias Ubana II, Polytechnic University of the Philippines Professor Rufo Bueza as well as (from left) 4th District Board Member Gerald Ortiz and 4th District Board Member Rachel Ubana at the ground breaking ceremony of two new computer laboratories last December 3, 2012forthe Polytechnic University of the Philippines, Lopez.(QUEZON PIO)
In order to reach out and aid more Quezonians in need, the Provincial Government of Quezon gave Serbisyong Suarez Health Coupons worth a total of Php 950,000.00 to 95 barangays in Lopez, Quezon last December 3, 2012.
Quezon Governor David "Jayjay" C. Suarez visited Brgy. Jongo to unveil the newly-constructed Brgy.Jongo-Binahaan ADB Road and barangay day care center. This was followed by the ground breaking ceremony for the repair of the Hondagua Public Market at Brgy. Hondagua, amounting to Php 500,000.00.
Another ground breaking ceremony was held for the construction of two new computer laboratories at the Polytechnic University of the Philippines, Lopez which was also attended by Gov. Suarez, as well as the Christmas Party of the students of PUP and Serbisyong Suarez Scholars that followed.
Gov. Suarez was pleased at Mayor Ubana's active campaign for the education of the youth in Lopez. His projects and programs earned his municipality the title of Quezon's University Town.
According to Gov. Suarez, the programs of the Provincial Government would not reach the public if not for the support given by the leaders of the municipalities and barangays that make up the Province of Quezon. For this, he is thankful as the programs his administration carries out are met with successful results – a proof that Quezon is united especially when it comes to the betterment of its citizens.
Mayor Ubana proudly showed his support for the projects and programs of Gov. Suarez in front of the students of PUP Lopez. According to Ubana, education is only a part of the issues the current administration is targeting with its flagship programs to ensure the province with a secure future. He added that the Provincial Government also allotted Php 7 Million for the construction of a public dormitory that can be used by those who will enroll at the Training Center in the area.
Senior Board Member Romano "Mano" Talaga and two 4th District Board Members – BM Gerald Ortiz at BM Rachel Ubana – showed their support by joining Gov. Suarez in bringing the town of Lopez the programs and projects from the Provincial Government. (QUEZON PIO)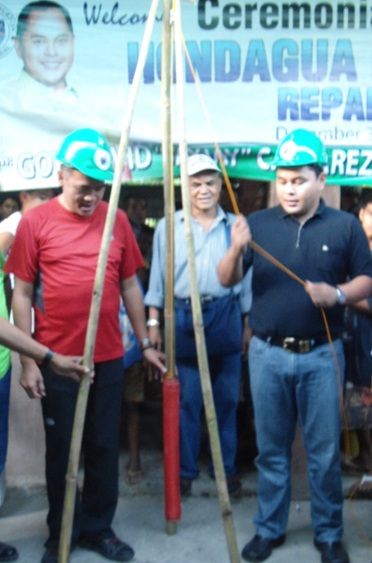 Quezon Governor David "Jayjay" C. Suarez and Lopez Mayor Isaias Ubana II at the ground breaking ceremony of Hondagua Public Market last December 3, 2012. Php 500,000.00 was allotted by the Provincial Government for the repair and construction of the said marketplace.(QUEZON PIO)
Quezon Governor David "Jayjay" C. Suarez with Senior Board Member Romano "Mano" Talaga and Lopez Mayor Isaias Ubana II at the ribbon cutting of the new Day Care Center at Barangay Jongo, Lopez, Quezon this December 3, 2012.(QUEZON PIO)