Flower offering at the monument of Apolinario De La Cruz, more commonly known as Hermano Puli, last November 4, 2012 in celebration of his 171st death anniversary. In attendance during the ceremony are the employees of the Provincial Government, with Executive Assistant IV Webster Letargo in the center.(QUEZON PIO)
Apolinario De La Cruz, or more commonly known as Hermano Puli, had his 171st death anniversary and heroism celebrated last November 4, 2012 in a flower offering ceremony and book distribution at his monument in Barangay Isabang, Tayabas City.
The event, spearheaded by the Provincial Government of Quezon, was attended by employees of its different offices, students, police officers, soldiers, members of different organizations and the officials of Barangay Isabang.
500 pieces of "Ang Librong PULI; Paniniwala, Ugnayan, Lipunan at mga Imahesa Panahon ni Apolinario De La Cruz", a second edition book by Ryan V. Palad were distributed for each municipality during the event. The book, based from historical accounts and various researches details the life and works of Hermano Puli, a local hero and martyr.
It should be remembered that Hermano Puli, along with over 800 members of the Confradia de San Jose – an organization which he established in order to help the poor and others in need – led a revolution over the tyrannical rule of the Spanish, sowing the seeds of nationalism that continued until the faithful year of 1896, which gave birth to the independence of the Philippines from the Spanish rule.
According to Attorney Gilbert Camaligan, president of the Hermano Puli Memorial Committee, the publication of the said book is in preparation for the coming 200th birthday celebration of Hermano Puli in 2014. He added that he hopes that there will come a day when the whole country would join the Province of Quezon in recognizing the heroism and legacy of Apolinario De La Cruz.
In the speech of Provincial Administrator Rommel Edaño, like Hermano Puli, the revolution in governance led by Quezon Governor David "Jayjay" C. Suarez in the Province of Quezon brought forth transparency and improvement in the functions of the different offices that make up the Provincial Government. Responsive programs and projects that hasten the delivery of help to those most in need signal this improvement as well. PA Edaño said that it is only necessary for a province with such a wide geographical coverage and continuously growing population to have a mechanism to effectively disseminate assistance to its farthest municipality and farthest barangay. Under the leadership of the current administration, all these were made possible. (QUEZON PIO)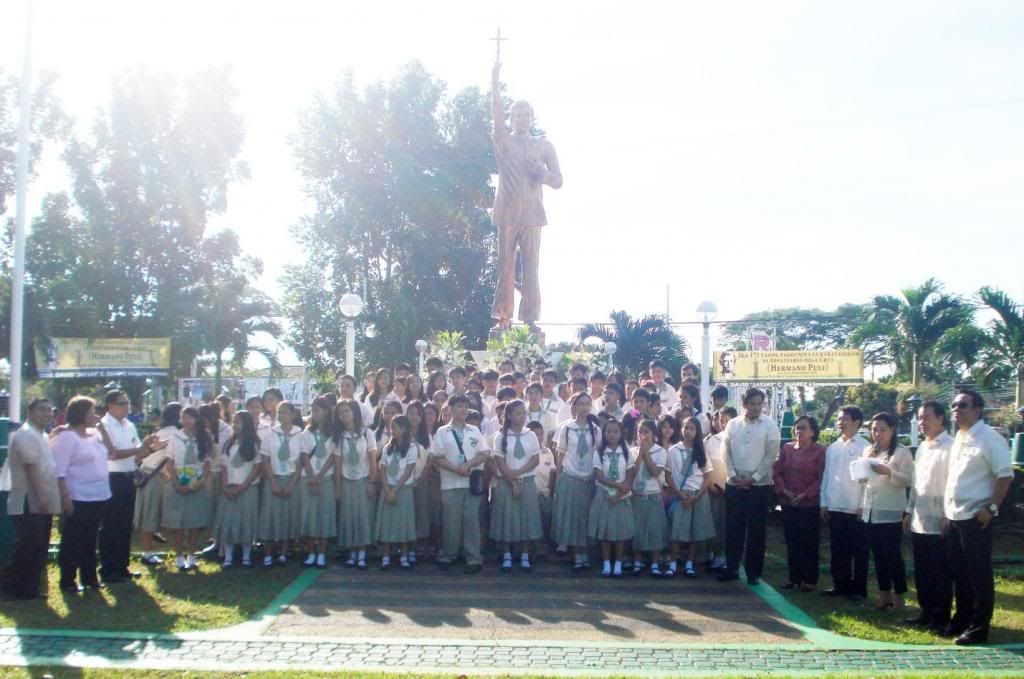 Ceremonial Turnover of 500 pieces of "Ang Librong PULI; Paniniwala, Ugnayan, Lipunan at mga Imahesa Panahon ni Apolinario De La Cruz", a second edition book by Ryan V. Palad during Hermano Puli's 171st death anniversary held at the local hero and martyr's monument in Barangay Isabang, Tayabas City. With Provincial Administrator Rommel Edaño (6th from the right) are the 153 students from Quezon Science High School (QSHS), Atty. Gilbert Camaligan -the president of the Hermano Puli Memorial Committee, his members, and the Department of Education represented by Dr.Tolentino Aquino, as well as 2nd District Board Member Ferdinand Talabong and Ms.Ezcel Orogo, QSHS Directress.(QUEZON PIO)