Ground breaking ceremony of Claro M. Recto District Hospital at Brgy.Gumian, Infanta, Quezon last October 22. (From left) Quezon Governor David "Jayjay" C. Suarez, Senior Board Member Romano Talaga, Infanta Mayor Filipina Grace America, 1st District Board Member Techie Dator and Dr. Hilario Mercado. (Quezon PIO)
Quezon Governor David "Jayjay" C. Suarez inaugurated various projects amounting to a total of over Php 71.6 million in the towns of Real and Infanta last October 22to 23.
15 infrastructure projects in the town of Real were first unveiled, totalling to Php 32.7 million. These projects were: Concreting of Kinalinan-Kisusuyo Provincial Road, Construction and Improvement of Real Port, Construction of Stage at Real Central Elementary School, Concreting of Silang Proper-Marcos Highway Farm to Market Road, Concreting of Palanas Farm to Market Road, Concreting of Barangay Proper to Tagumpay-Kapalong Boundary, Repair of Existing Dam, Construction of Canal Lining and Installation of Steel Gates of Cawayan CIS, Construction of one Classroom Computer Building in Ungos National High School,Repair of Ungos Elementary School, Construction of Day Care Center at Barangay Tanauan, Repair of BagongSilang Elementary School, Repair of Kiloloron Elementary School, Repair of Malapad Elementary School and Repair of Tagumpay Elementary School.
In Infanta, Gov. Suarez attended the ground breaking of Claro M. Recto District Hospital at Brgy. Gumian. The construction of the said hospital amounted to Php. 32,265,000.00 and is targeted to be finished within 210 working days, so people can be accommodated as soon as possible.
The Provincial Government also imparted General Nakar, Infanta, and Real with funding for their feeding program, totalling to Php5,148,000.00. Philhealth cards were also distributed to 166 beneficiaries in Brgy. Tonggohin and Brgy.Gumian.A two-classroom building in Brgy.Agos-Agos, Infanta was also inaugurated.
According to the good Father of Quezon, he wants every Quezonian to feel the services the Provincial Government is developing and making available for them. He cites this as the reason why Serbisyong Suarez works tirelessly to make the Provincial Government's programs reach even the farthest municipality and the farthest barangay. Gov. Suarez also added that he chose to put up the new District Hospital between the municipalities of Real and Infanta to make it more accessible to the residents of both towns. He also expressed his gratitude for the support he and his administration's endeavours receives from both Local and National Government.
In the message of Real Mayor Joel AmandoDiestro, he said that he wasn't originally anally of the administration of Gov. Suarez. But because he witnessed the kind of responsible leadership Gov. Suarez assumes over the province and the responsive programs and projects he provides to the people, he gives his full support to the hardworking governor and his plans for Quezon. Mayor Diestro added that Gov. Suarez is a good man who keeps true to his word, which was first attested by the fast implementation of his promised projects, like the Real Covered Court Stage.
Department of Health Assistant Regional Director Corazon Flores recalled how she personally experienced flooding at the District Hospital in Infanta during the onslaught of a typhoon last 2004. She recalled that she was then with Gov. Suarez, helping those who suffered from the said calamity that battered Infanta, Real, and General Nakar, and expressed her happines that now, a new hospital is in construction on good ground. With the Claro M. Recto District Hospital, she said that the people can now be helped and treated even at times of disaster and calamity.
170 students from Brgy.Agos-Agos will be able to make use of the two-classroom building Serbisyong Suarez gave to the area's local school. According to Barangay Captain Renato Rivera, they didn't expect that their request for additional classrooms would be answered so quickly. Head Teacher Mary Ann Sarmiento said that it is a big help to the students, who will now have an environment more conducive for studying.
The said projects will not only benefit the residents of the mentioned towns, but of neighboring municipalities and island as well.
Also in attendance during the said events were Mr. Gerry Talaga, Senior Board Member Romano Talaga, 1st District Board Member Techie Dator and other LGU officials who gave their support towards the programs and projects of Gov. Suarez and the Provincial Government for the improvement of Quezon.(QUEZON PIO)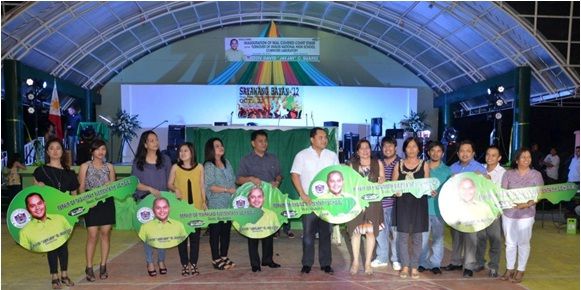 Ceremonial Turnover of Keys for the repair of 5 elementary schools in Real, Quezon held at the municipal covered court of the said town last October 22. With Quezon Governor David "Jayjay" C. Suarez are LGU officials and the principals of the 5 schools benefitting from the Php 300,000.00 repair project: Bagong Silang Elementary School, Kiloloron Elementary School, Malapad Elementary School, Tagumpay Elementary School and Ungos Elementary School.(QUEZON PIO)