Participants in the dog show wait for their pets' names to be called on the sidelines. The dog show has three categories: namely Best in Costume, Best in Talent, and Owner-Pet Look-a-Like.(Quezon PIO & Quezon OPV)
In unity with the 6th World Rabies day last October 4, the Office of the Provincial Veterinarian (OPV) held a dog show at Perez Park, Lucena City. The Dog-A-Palooza 2012 dog show, which officially opened for registration around 1 pm, was graced by the presence of Madam Anna Villaraza-Suarez, First Lady of Quezon. Mrs. Suarez served as special guest and judge during the event.
The dog show featured three contest categories, which were Costume, Talent, and Pet-Owner Look-A-Like. But before the contest proper, the attending owners had their dogs blessed by Rev. Father Benny L. Garcia during the pet blessing ceremony.
Provincial Agriculturist Roberto Gajo gave the welcome remarks, wherein he said that the Provincial Government supports programs not only for the welfare of its constituents, but for their pets as well, through the free vaccinations and pet consultations the OPV provides.
Aside from Mrs. Suarez, two other judges were present, namely Mr. Junnar Janer, Area Manager of Trico Pharma Corporation, and Dr. Cyril de Vera fromLucena Pet Care and Grooming Center.
For the costume contest, Rhian Kristofer Tañada's Bimby, a Pomeranian, and Hermione, a Shih Tzu, won the champion and 1st runner up places, respectively. Sundae, a beagle owned by Jordan Mando, snagged the 2nd runner up title.
In the talent contest, Jona Mendeja's Pomeranian named Milky secured the title, followed by Rhian Kristofer Tañada's Bimby, and Iboy Arceo's Kisses, a black Labrador.
Two contenders faced off in the owner and pet look-a-like contest, with Rhian Kristofer Tañada's Bimby coming on top – making it the Pomeranian's third win – and Lermia Carpio's Shih Tzu also named Bimby as 1st runner up.
The winners received bone-shaped plaques, treats, and vitamins for the dogs, while cash prizes were given to their owners. The champions were awarded with Php 1, 500, while 1st runner ups got Php 1,000, and 2nd runner ups, Php 700.
Pete, a yellow Labrador owned by Mrs. Suarez and Gov. David C. Suarez attended the dog show as a special participant. (Quezon PIO)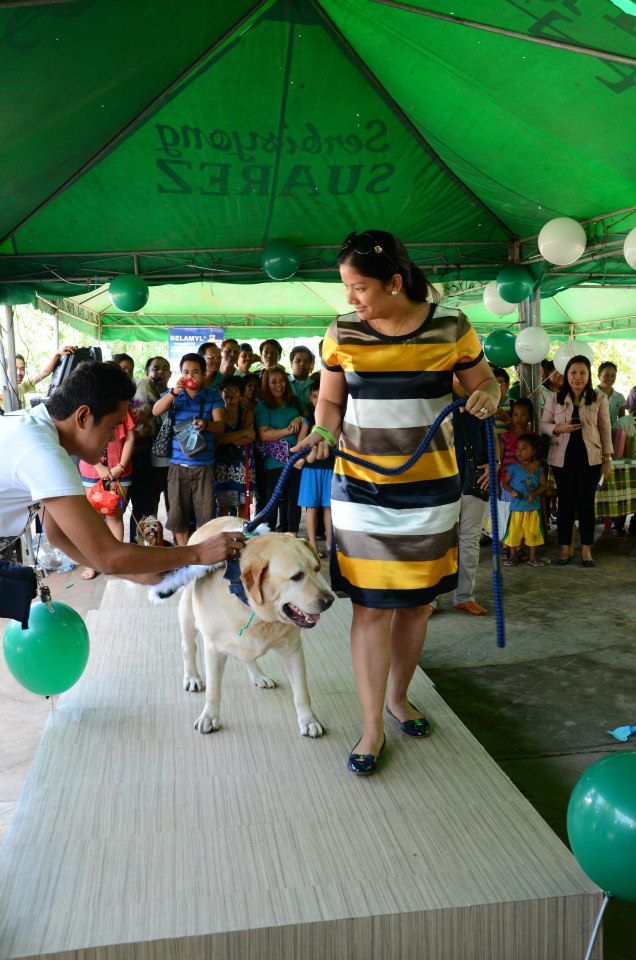 Quezon's First Lady, Anna Villaraza-Suarez with Labrador Pete, the "provincial dog of Quezon", during the dog show last Oct. 4, 2012. Pete, Mrs. Suarez and Gov. Suarez's pet, attended as a special participant in the event.(Quezon PIO)