Members of the Quezon Bikers Club, along with Provincial Administrator Rommel Edaño, during the MOU signing, mangrove replenishment planting, and coastal cleanup held atBrgy. Bantigue, Pagbilao, Quezon last September 26, Wednesday. (Quezon PIO)
Because of the increasing problems linked to the abuse of the environment, the Provincial Government of Quezon – through the efforts of the Provincial Government - Environmental and Natural Resources Office – programs addressing these distresses are continuously being promulgated and implemented throughout the province. In accordance to this, the Barangay Government Unit of Brgy.Bantigue, Pagbilao, Quezon, and Inter-Global College Foundation Inc. signed a Memorandum of Understanding (MOU) last September 26, Wednesday.
Quezon Governor David "Jayjay" C. Suarez spearheaded the current administration's flagship program, "Securing Quezon's Future", of which climate change adaption and mitigation measures are components. It aims to effectively correct and alleviate environment-related concerns, while at the same time addressing the needs of the Quezonians for safety, stable livelihood, and food supply.
The planting of 1 million coconut trees, as well as the historic Quezon's 2-in-1, are perfect examples and cornerstones of this said commitment.
According to Provincial Administrator Rommel Edano, the signing of the MOU symbolizes the continued commitment of the Quezonians in striving for a healthier environment. He also added that the people of Quezon has so much to be thankful for, because despite the number of typhoons and storms that passes through our country, the province has suffered little to no damage for over two years in a row. In fact, Quezon had, instead, lent help to its neighbors through sending rescuers and equipment during the recent typhoon.
Because of this, our province duly received the BaKas "Bayaning Likas" Award from the National Disaster Risk Reduction and Management Council in Malacañang. PA Rommel also thanked the Inter-Global College Foundation because of its support to the Provincial Government, and the Barangay Government Unit of Bantigue, Pagbilao because it did not fail to stay true to its promise to take care of the rehabilitation of the planted mangrove propagules in their area last June 30, during the Quezon's 2-in-1.
As a part of the program to take care of the environment, PA Rommel also expressed his gratitude to the Quezon Bikers Club for setting themselves as an example that biking is a great transportation alternative that leaves less carbon footprint, which is one of the causes for Global Warming.
The Memorandum of Understanding the parties signed contains the roles and functions, as well as the responsibilities that the undersigned have to fulfill in line with the Gov. Suarez's flagship program "Securing Quezon's Future".
After signing the MOU, the attendees continued with cleaning the coastline in Brgy. Bantigue, in solidarity with the International Coastal Cleanup, which is celebrated yearly throughout the country every September.(Quezon PIO)
Students of Inter-Global College Foundation Inc. and members of Quezon Bikers Club expressed their solidarity with the Provincial Government by taking part in the MOU signing, mangrove replenishment planting, and international coastal cleanup spearheaded by PG-ENRO last September 26, at Brgy. Bantigue, Pagbilao, Quezon. (Quezon PIO)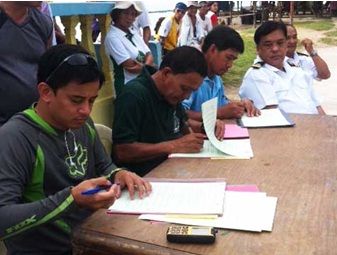 (LEFT TO RIGHT) Provincial Administrator Rommel Edaño, with Mr. Leon Fatalan (Director of Discipline, IGCFI) and Barangay Captain Marcelino Melo during the MOU or Memorandum of Understanding signing between PG-ENRO and the barangay government unit ofBrgy. Bantigue, Pagbilao, Quezon last September 26, held along with the replenishment planting and coastal cleanup in the said area. (Quezon PIO)