Quezon Governor David "Jayjay" C. Suarez and Cebu Governor Gwendolyn Garcia shake hands during their meeting last August 19, in front of the Quezon Monument in Perez Park, Quezon Capitol Compound. Gov. Suarez invited Gov. Garcia to visit the province and sign a "sisterhood agreement" between their respective provinces. (QUEZON PIO)
The two provinces of Quezon and Cebu sign a "sisterhood agreement" through the persons of Quezon Governor David "jayjay" C. Suarez, and Cebu Governor Gwendolyn "Gwen" F. Garcia last August 19, at the Manuel Luis Quezon Monument at Perez Park.
The two provinces showed their ardent support of one another, as well as their mutual wish to improve tourism, business investment, and good governance during the celebration of former president Manuel Luis Quezon's 134th birthdate celebration – the culmination of a week-long provincial festivity hailed as the first Niyogyugan Festival.
Governor Suarez invited Cebu Governor Garcia to visit Quezon and sign the said treaty as a sign of their good relations and solidarity, citing that he chose Cebu to be Quezon's first sister province because of its qualities that are reminiscent of what Manuel Luis Quezon stood for. He also added that his province has a lot to learn from Cebu, because of the latter's well-administered and well thought-out programs. He thanked the good Gov. Garcia for gracing Quezon with her presence and expressed his support for Garcia in the coming Senatorial Election
In the message of Gov. Garcia, she said that there has already been a long-standing connection between the two provinces. She cited how former president Manuel Luis Quezon's Vice President Sergio Osmeña is a Cebuano, and that former 3rdDistric Congresswoman Aleta C. Suarez, the mother of Gov. Suarez, also hails from a municipality in Cebu.
Gov. Garcia also invited the Provincial Government's officials as well as the Quezonians to come and visit her province and take part in the "Suroy-Suroy Sugbo Northen Escapade", a festival this coming September.
Gov. Garcia witnessed the flower offering at the monument of Quezon, a yearly event participated in by the province's government officials, board members, national agencies, socio-civic organizations, religious groups, DepEd, PNP, SOLCOM, and others as a sign of respect to the province's illustrious son and namesake. A thanksgiving mass officiated by Bishop Emilio Z. Marquez was held before the program formally opened. (Quezon PIO)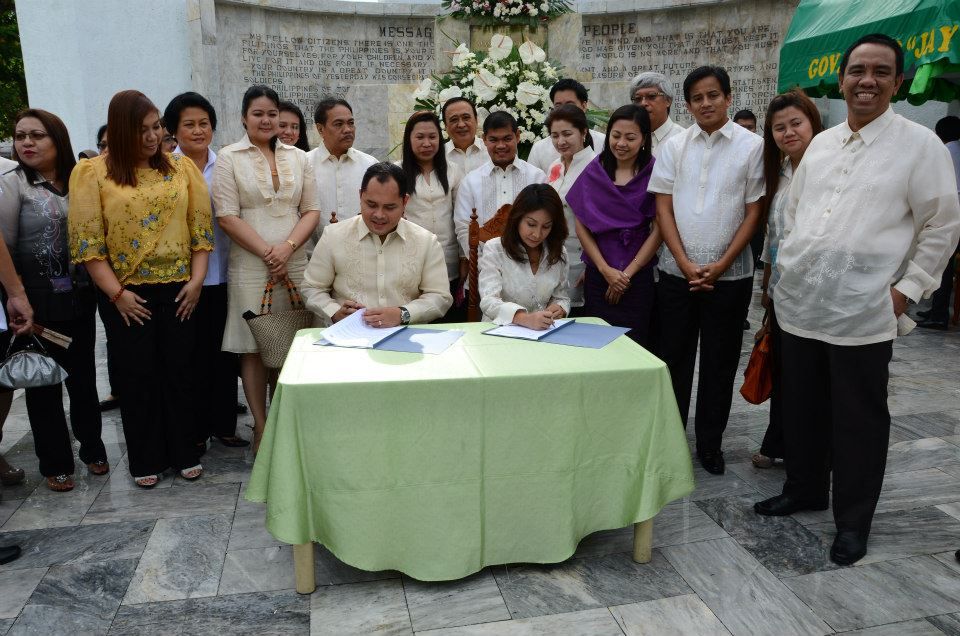 Quezon Governor David "Jayjay" C. Suarez and Cebu Governor Gwendolyn Garcia sign an agreement to make each other's provinces "sisters" as a sign of solidarity during the 134th birthday celebration of Manuel Luis Quezon, August 19.(QUEZON PIO)
Quezon Governor David "Jayjay" C. Suarez and Cebu Governor Gwendolyn Garcia during the signing of the sisterhood agreement between the two provinces last August 19 during the 134th birth commemoration of former president Manuel Luis Quezon. With them are the board members of the 4 districts of Quezon and the heads of different offices in the Provincial Government. (QUEZON PIO)
Quezon Governor DavidBriga "Jayjay" C. Suarez with Cebu Governor Gwendolyn F. Garcia and Col. Alex C. Capiña, AFP Commander of the 201stBrigade during the singing of the national anthem in front of former president Manuel Luis Quezon's monument last August 14 during his 134th birthday. (QUEZON PIO)