The towns of Lucban and Sariaya were conferred the honor of being the overall champions of the first-ever Niyogyugan Festival in the province of Quezon. The presenting of the awards took place last August 18, at the Perez Park in the city of Lucena. The two municipalities, who tied as overall champions, are to share projects amounting to 6 million pesos through the Provincial Government headed by Gov. David "Jayjay" C. Suarez.
Gumaca, Quezon won 1st place in the Booth Competition in the Agri-Exposition held at Perez Park during the province-wide fiesta, making the towntitle holder for two years in a row now. Gumaca will be receiving 3 million pesos worth of projects as prize. Sariaya followed at 2nd place, with 2 million pesos worth of projects. Lucban placed 3rd, Mauban at 4th, and San Narciso at 5th, earning the three 1 million peso worth of projects each. Lopez, which managed to snag 6th place, is to receive 500,000 worth of projects.
The town of Sampaloc received 5,000 pesos for being the most colorful municipality, while Unisan received 10,000 for the biggest delegation, exceeding 50 kilometers. Sampaloc also received 5,000 for the biggest delegation not exceeding 50 kilometers.
In the "Tapas Mo, KayodKo" contest, Perez placed 1st, with 5,000 pesos as prize. Sariaya placed second, garnering it 3,000 pesos, and Lopez at 3rd with 2,000 pesos.
5,000 pesos was granted to Mauban for winning in the Singing Contest, San Antonio received 3,000, and Atimonan and Pagbilao won 2,000. Lucban also won 5,000 for the Ballroom Dancing Competition.(QUEZON PIO)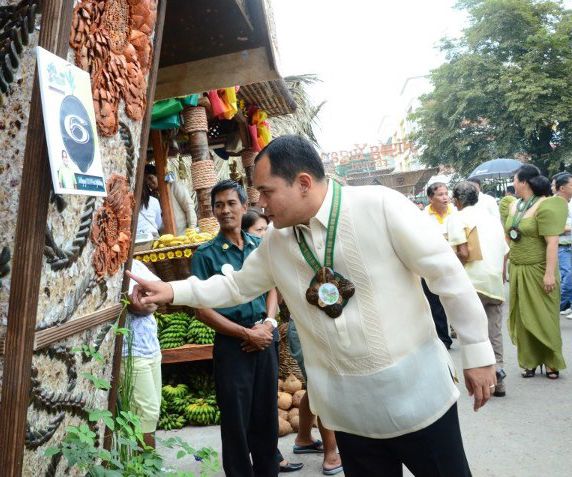 Quezon Gov. David "Jayjay" C. Suarez observing the details of a participating municipality's "Kubo" booth in the recent Niyogyugan Festival.