The Provincial Government of Quezon inaugurated three programs at the recently held Flag Raising Ceremony in front of Quezon Medical Center (QMC).
First initiated was the Blood Olympics 2012, which aims to collect 36,000 blood bags. Six schools from the province, namely Enverga University Main, STI College, Enverga Candelaria, Maryhill College, Sacred Heart College, Calayan Education Foundation Incorporated, St. Anne College of the Pacific, St. Agustin School of Nursing, Southern Luzon State University, and Polytechnic University of the Philippines, expressed their adamant support for the project.
According to Provincial Administrator Rommel Edaño, the Flag Ceremony was decided to be held at the grounds of QMC as a sign of solidarity. He also said that the Department of Health cited the province of Quezon as having one of the best blood banks in the region, and wished a resounding success for the newly launched program.
Provincial Health Officer 1, Dr. Agripino Tullas, reported that since 2010, commercial blood banks have been completely erased in the province. The Provincial Blood Bank is now completely able to sustain, by itself, all the blood needs of the hospitals and health centers in Quezon.
"Serbisyong May Ngiti" was second to be inaugurated, whose concept, according to Dr. Ramon Baldovino, was the brainchild of the good Gov. David "Jayjay" C. Suarez and Mr. Jun Bay from the Tourism Office. The program aims to have public health workers as well as all other Provincial Government employees provide their services in a cheerful manner, all expressed their agreement by pledging themselves to "Serbisyong May Ngiti".
This was followed by the Medical Center Computerization Program, which would hasten the exchange of information between the departments of QMC. Rosendo Go, Program Consultant, likened it to the wheels of a kalesa, with QMC as the main wheel, where district hospitals are all connected to. Their interconnection is necessary to provide quick and effective aid that will help save lives in the province
In Quezon Governor David "Jayjay" C. Suarez's address, he said that during the past few months QMC has been enjoying a lot of positive feedback when it comes to their services – a great improvement from the scathing remarks that once labeled the hospital. He said that, instead of shying away from their past controversy, they must face it head on in order to affect positive change. The Provincial Government also gave recognition to QMC's good management of hospital wastes and general trash. (QUEZON PIO)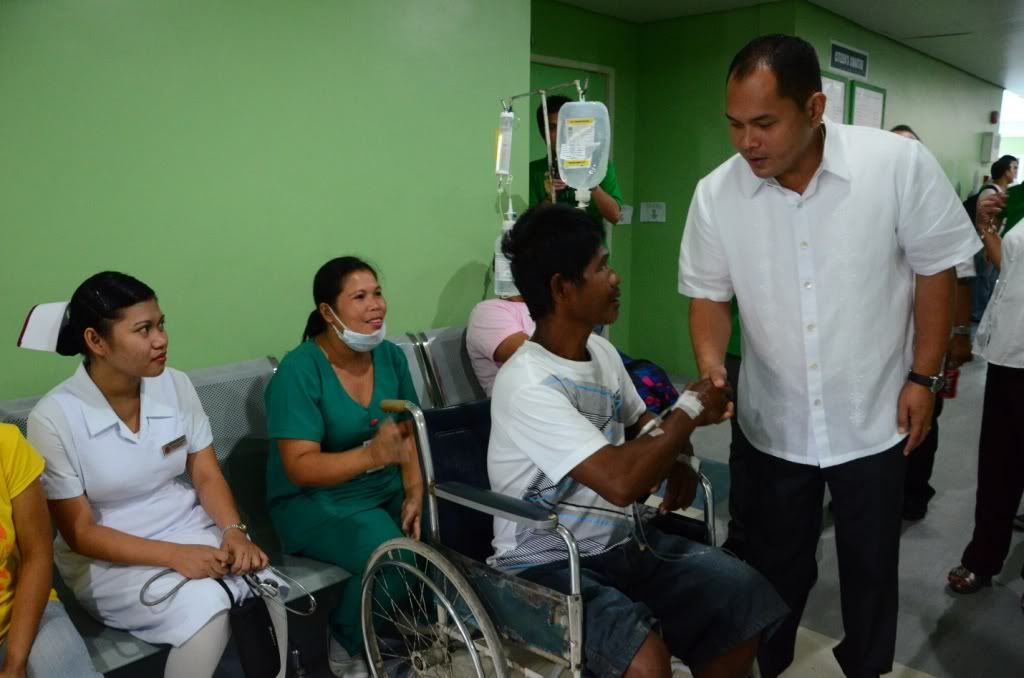 Quezon Governor David "Jayjay" C. Suarez during his visit at the QMC Annex, after launching the three new programs (Blood Olympics 2012, Medical Center Computerization, and Serbisyong May Ngiti) at the flag ceremony held in front of the hospital this Monday, Aug 6. (Quezon PIO)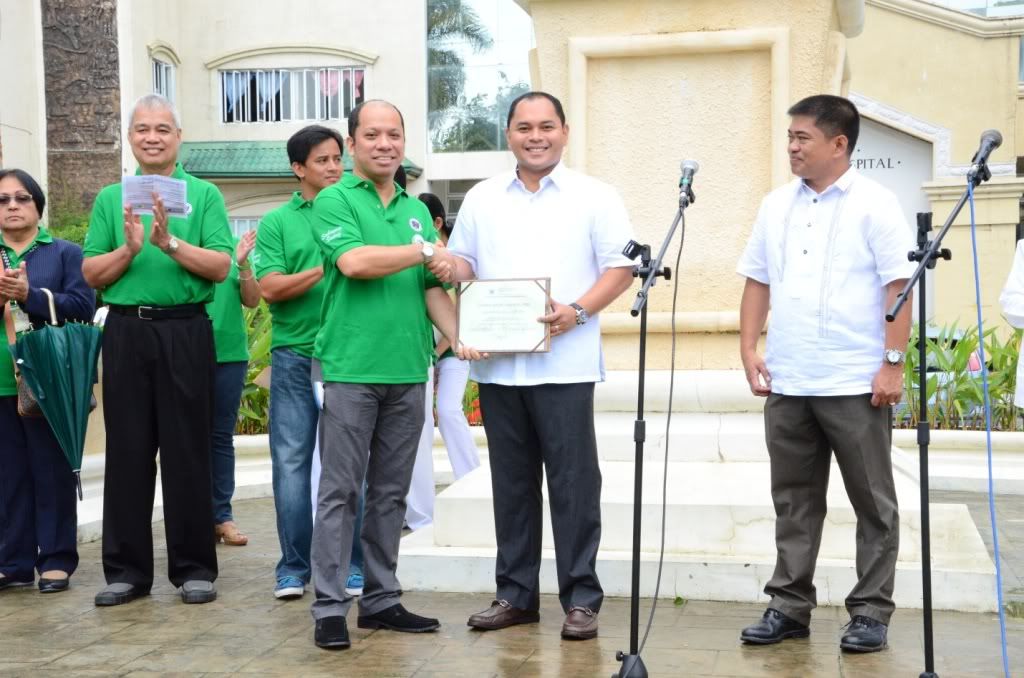 Dr. Ramon Baldovino, OIC - Quezon Medical Center, is handed a Certificate of Commendation by Quezon Governor David "Jayjay" Suarez, from the office of PG-ENRO lauding the hospital's exemplary waste management. (Quezon PIO)
Quezon's hard working governor, Hon. David "Jayjay" C. Suarez, with the employees of the Quezon Provincial Government at the Flag Raising Ceremony held this Monday in front of Quezon Medical Center (QMC). During the said event, three new programs were unveiled, namely the Blood Olympics 2012, Medical Center Computerization, and Serbisyong May Ngiti. (Quezon PIO)