Mrs. Anna Villaraza-Suarez, wife of Quezon Governor David "Jayjay" C. Suarez, graced the launching of a brand new day care, in Barangay Baguio, Tayabas City, Monday, July 9.
Along with other barangay officials and Kalipinan ng Liping Pilipina (KALIPI) Tayabas head, Roselle Bobila, Mrs. Suarez who is also president of KALIPI Quezon and head of the Serbisyong Suarez Scholarship program, opened the 24th day care center built under the administration of Gov. Suarez to date.
An estimated total of 40 students are expected to make use the new building, along with the new chairs and tables, cabinets, black board, ceiling fan and bathrooms provided for their convenience.
Two more day care centers are planned to be built in the following days; one in Brgy. Dalahican, and one in Brgy. Aquino in Tiaong, Quezon. Part of the 13 more fully-furnished day cares set up to be built for the whole year.
The building in Brgy. Baguio costs around 1 million pesos, taken from 20% of the province's Development Fund. (Quezon PIO)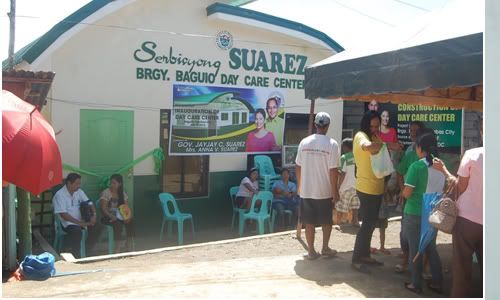 The newly-opened day care center in Brgy. Baguio, Tayabas – another Serbisyong Suarez contribution.
The blessing of the newly-opened day care center in Tayabas. From the right is Mrs. Anna Villaraza-Suarez, Serbisyong Suarez head and President of KALIPI Quezon.